Renewable Energy
Near-record, low gas prices coupled with the high cost of gas transportation have proved challenging to the energy industry. Fortunately, technology has evolved making the conversion of gas to diesel fuel achievable. This process, often referred to as "gas to liquids" or "GTL" can be accomplished using various gas types from different sources and Renewable Energy Credits have significantly improved the economics.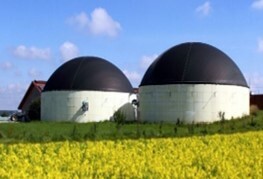 Biogas
is produced from biomass through the process of controlled anaerobic decomposition.
This includes poultry, dairy, swine, and food waste.
Producers receive Renewable Energy Credits in this application.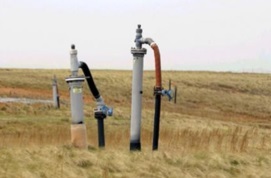 Landfill Gas (LFG)
is a natural byproduct of the decomposition of organic material in landfills.
LFG is composed of roughly 50% methane (the primary component of natural gas), 50% carbon dioxide (CO2) and a small amount of non-methane organic compounds.


Source: EPA
Producers receive Renewable Energy Credits in this application.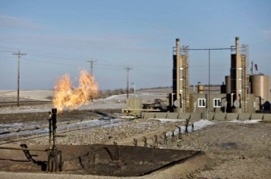 Associated Gas
Associated-dissolved natural gas also referred to as associated gas, is natural gas produced by oil wells.
Associated gas contains natural gas plant liquids (NGPLs) such as ethane, propane, normal butane, isobutane, and natural gasoline. NGPLs are used as feedstocks to produce plastics, fibers, and other products.
Source: EIA
So how is this methane gas converted to diesel fuel?
Processes that convert natural gas and other gaseous hydrocarbons to liquid fuels – especially diesel fuel – have been known and operated for over fifty years. The challenge with these "gas to liquids" (GTL) technologies has been their large scale and resulting high capital cost. New technical approaches, referred to as mini-GTL and micro-GTL, are making these proven processes affordable and feasible for applications where smaller quantities of stranded gas may be converted to valuable, and transportable, liquid transportation fuels. New environmental drivers, in the form of both emissions restrictions and price incentives, are accelerating the deployment of these technologies.
Gas to Diesel Process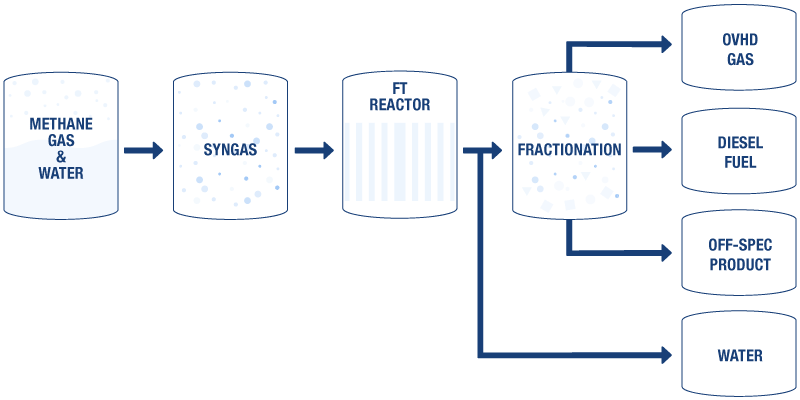 Contact our team today for design and construction of these modular process systems.
(281) 902-0060