EPC Project Development
March 04, 2022
EPC Project Development
As the business landscape evolves, companies must continuously assess their strategy as they evaluate future opportunities. Successful companies bring ideas to reality that deliver value to their customers. Most organizations follow a disciplined process for developing these ideas into new products or services. These ideas typically progress through a series of graduated steps by which the most attractive opportunities are identified, vetted, and implemented. In the EPC world, this process is known as project development.
Proper project development is necessary for successful project execution. When a company's strategy identifies a business opportunity, the project development process should begin. For example, traditional petroleum refiners have recently identified business opportunities for making synthetic fuels from biomass, vegetable oils, beef tallow, municipal solid waste, and other feedstocks. These abundant opportunities aren't limited to the refiners. Private developers and financiers are also reacting quickly to take advantage of this trending market shift.
To successfully serve this market, EPC (engineering, procurement, and construction) contractors need to understand their client's project development process and adapt their services to align with each customer's unique process. For the last 18 years, KP Engineering has followed this approach and thus created value for clients at each step of the project development process.
Phase 0/FEL-0 So, what does this project planning process look like? Project development begins with identification of the opportunity. This step is often referred to as Phase 0 or Front-End Loading (FEL)-0. In this step the business case and its stakeholders are articulated. In addition to identifying the business objective for the project, preliminary economic analyses are performed to quantify the value linked to the opportunity. If the project satisfies the business objective and ranks higher than other competing alternatives, it moves to the next step of the process: FEL-1.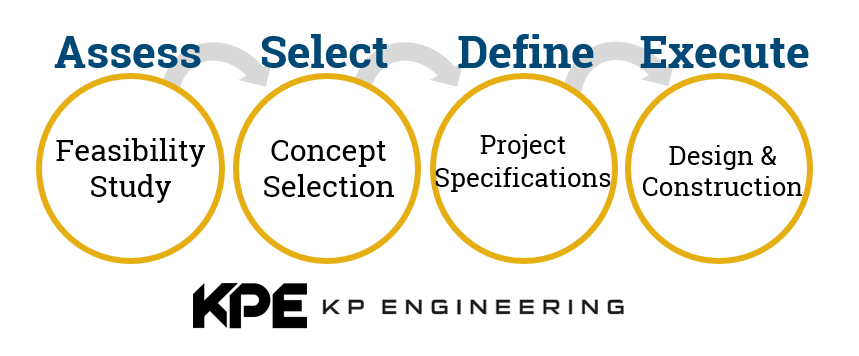 FEL-1 This step involves a conceptual study (also known as a feasibility study or process study) which leverages preliminary engineering to assess the feasibility of the prospective project. The scope of FEL-1 typically includes assessments of alternative technologies or processes capable of meeting the objectives of the opportunity. This assessment may include development of multiple preliminary elements including process flow diagrams, plot layouts, equipment costs, project schedules and preliminary overall project cost estimates, capital costs and operating expenses for the defined project scope. At this stage, the cost estimate is usually +/-50% of the total installed cost (TIC) of EPC.
The project economics are again reviewed with the updated information and compared to other competing options.
FEL-2 Opportunities that survive the scrutiny of the FEL-1 review move on to the next step: FEL-2. This step includes further engineering development, more detailed planning, and typically includes development of a process design package. When licensed technology is involved, the evaluation and selection of Licensors occurs during this phase. In the FEL-2 phase, the engineering development work produces several project specific items including but not limited to:
- Overall project execution strategy
- Updated, more detailed project schedule
- Process Design Package (PDP) that includes:
o Mass and energy balances
o Process flow diagrams (PFDs)
o Process equipment sizing and specifications
o Data sheets
- Utility requirements
- Catalyst and chemical requirements
- Preliminary Process & Instrumentation Diagrams (P&IDs)
- Electrical single line and/or load list
- Updated, more detailed plot plan
- Budgetary equipment quotations, Request for Quotation (RFQ) development
- Site development investigation (geotechnical report, infrastructure, etc.)
- Updated project economic assessments
At the conclusion of FEL-2, the cost estimate is usually +/-35% of TIC.
FEED/FEL-3 The projects selected for further development progress to the next phase: FEL-3. This step is also known as FEED (Front End Engineering Design). During this step the project is progressed by beginning detailed design activities. The engineering and design performed during FEL-3 is the required level of effort necessary to support a lump sum quality (+/- 10%) project cost estimate as this estimate is often used to obtain funding or company FID (final investment decision) approval for the project EPC execution phase.
To develop a lump sum quality estimate, accurate material quantities are required, so the construction estimate is developed from FEL-3 material quantities. The overall project cost estimate is dependent on the accuracy of the key material quantities: concrete, structural steel, piping (by each material type), cabling, etc. so the engineering/design effort in FEL-3 includes all the engineering disciplines: Civil, Structural, Mechanical, Piping, Instrumentation and Electrical.
In addition, it is necessary to complete a hazard analysis of the proposed design during FEL-3 so that any design modifications needed to meet the safety requirements are incorporated. To ensure the design includes only the items necessary to meet the project objectives, a "cold eyes" engineering team will review and question the need for everything included in the design. This results in a fully vetted design that is ready to progress to EPC execution upon completion of FEL-3. To meet this objective, it is crucial that all stakeholders are fully engaged through FEL-3 and have accepted the final FEL-3 design. The EPC execution phase (FEL-4) can suffer efficiency and economic losses if the Project Team reconsiders decisions that were made during FEL-3.
The FEL-3 design will produce several items that have been further developed and issued for design, including:
- Overall site plan
- Site specific geotechnical report
- Piping & Instrumentation Diagrams
- Plot plan
- Tie-in list
- Constructability plans
- Piping design 3D model which has been through multiple reviews with the Project Team
- Firm priced quotations for equipment and other major items
- Civil design and quantities, foundations, paving, etc.
- Structural design and quantities by heavy, medium, and light
- Underground piping
- Piping material take-off by piping specification
- Process Hazard Analysis (PHA)
- Control and safety system definition and firm price quotations
- Firm price quotations for analyzers and other key Instrumentation items
- Instrument data based and datasheets
- Electrical single line diagrams, load list, area classification Drawings
- Firm price quotation for major electrical equipment – transformers, MCC, RIE buildings
- Routing and material take-off for all cabling and conduit

EPC Execution/FEL-4 Following FEL-3 and FID approval, a project is ready to move into the EPC execution phase or FEL-4. The success of the EPC execution phase depends directly on the commitment and effort put into the preceding phases. If the prior steps have been executed diligently, the execution phase should be simply execution of the plan. While some projects are derailed in execution by changes in the scope of work from failure to complete the preceding FEL project development steps, companies that commit to the FEL project development process can avoid budget and schedule overruns and most importantly safety issues.
From the opportunity definition in FEL-0 to the EPC unit start up, the project development process can range from 18-24 months or longer.
As we move into 2022, KP Engineering is supporting multiple customer projects in the renewable space. These projects vary from building renewable diesel units, feedstock preparation facilities to terminals and carbon capture facilities. Project planning and successful execution are key factors for a positive outcome. We create value for our customers by understanding the FEL project development process which leads to executing sustainable projects efficiently, economically, and safely.
Ready to assess your project's feasibility? Leverage our project development expertise.