Optimizing existing equipment is an essential function to keep plants running. This optimization can extend the useful life of existing assets, thereby lowering CAPEX and OPEX costs that are difficult to justify in volatile markets.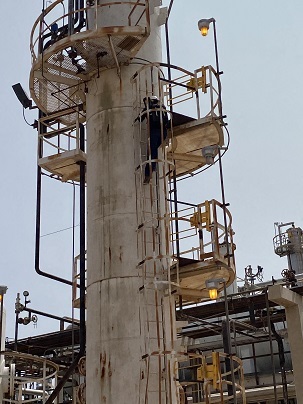 Since 2004, KPE has partnered with multiple refiners to provide engineering services to support maintenance, reliability, turnaround/outages, and small capital construction projects.
Our extensive experience with downstream process units allows for creative engineering designs that save customers money through cost-reduction by using existing assets or designing for optimization. KPE's vast knowledge and depth of experience allows for a wholistic approach to operations, maintenance, safety, and environmental considerations.
This wholistic approach is what sets us apart from our competitors.
With safety at the forefront of our plant services, our team adheres to all site-specific, local safety guidelines while performing work. Our on-site team has a successful track record of optimizing existing process unit performance.
We are well-versed in early project development through detailed engineering and design. This includes the development of Construction Work Packages and assisting with implementation and installation in the field.
Below are specific examples of on-site support KPE has provided.
Control room upgrades
AGAR probe installs
PSV and flare studies
Cogen oil sump upgrade
BMS skid installations
FCC overhead revamps
TI/PI installation for crude unit
Mitigation of exchanger fouling issues
Propane dryer replacement
TF isobutane pump prime improvements
Atmospheric Tower Bottom truck loading
Cogen pad drain and steam drum fill replacements
Convert an existing wax crude tank to an FCC feed tank
FCC main fractionator internals and ancillary modifications
Naphtha hydrotreater reactor and internals replacement
Debottlenecking to increase crude throughput and diesel yields
Design to support rerouting relief valves and systems
Specification and replacement of control valves into existing systems
RTC360 3D Scanning Services
In addition to the on-site support listed above, KPE offers 3D laser scanning services directly to our customers. By having a scanner internally, KPE protects our clients from the additional cost of outsourcing the scanning or marking up the cost to third party source the scanning. With KPE as your design engineering partner, we perform the scans. This streamlines communication direct to the customer and reduces the number of people at our customers' sites. KPE scanning services provide you with:
Accuracy within 1/8 of an inch
Construction cost-savings due to reduced field rework (averaging less than 1% rework on TA scope)
Project schedule savings (eliminates field sketches, smaller crew sent to job sites)
Engineering savings (all disciplines - process, civil/structural, electrical, mechanical - use scans)
Everyday KPE is helping clients to solve their problems in ways that will increase their profitability, regardless of project size. We create value for our clients through our high standard of engineering, excellent work ethic, and earned trust in working relationships at all levels of the organizations.
Do you need on-site support at your plant or refinery?